TEC-ARTs FC3S
Infamous from the Super Taikyu N2 Endurance AE86 and many drift/circuit cars in active racing duty, They've had this FC3s for a while , From BN Sports to modded FD 99' Spec lights and all, it seems this car is just getting crazier and crazier...
From 06-07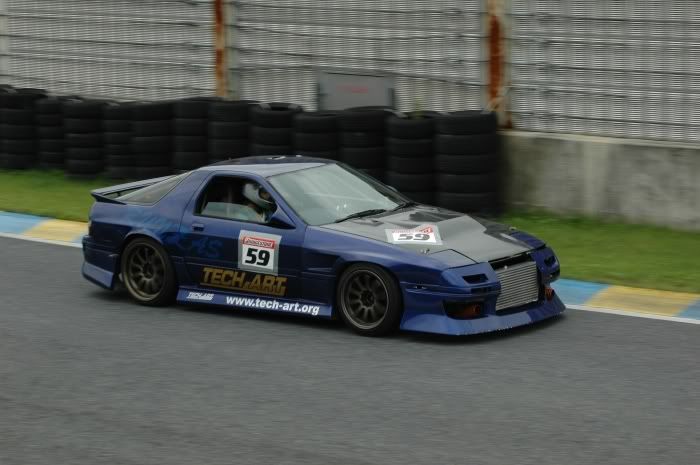 To 2008' Tokyo Auto Salon
This thing is tough!
Tamon design GT Aero & Multi Piece Wide body, White Work Meisters , All sorts of canards, diffuser and a massive GT Wing.
Thanks Tunerzine.com
____________________________________________________________________
Panspeed FD3S Version IV/V/VI - Tsukuba Time attack
Among many rotary tuners in Japan, a small,veteran shop Panspeed from Saitama prefecture has been around building cars for street,circuit and drift. Very reasonable tuning shop that emphasizes on conservative tuning and reliability for customers.
They have been trying to beat the record title for fastest tuned FR around Tsukuba.
In the early years, the shop spent lots of research on the circuit and went through many various changes since then.
Early 2003-2004, the car had quick lap times behind the rival RE Amemiya TD06SH-25G powered FD3S, in the 59' second range ,Quite an achievement! but with the odds against them, they ended up having mechanically failures leading to an engine fire, that quickly disqualified the car.
A year later, they returned with a newly built FD3S, stronger , faster!
But In 2005/2006 - Driven by GT Driver Akira Iida. It Breaks into 0:57:15, a year later more testing and tuning and they achieved a 0:56:8 seconds! Again the car met more problems when the car spun out and hit the wall right before the Dunlop corner in Tsukuba.
2007 - The year of 07/07/07
With the car completely redone using a LE-Mans style from the help of AB Flug.
More weight reduction, and running 265/35 18x10.5/11 CE28ns. It ends up breaking its own record, with a newly set track record of 55.603!! Making it the fastest FR car on Tsukuba using street tire/factory chassis/non tube frame. This is certainly a car I will follow for more record breaking runs in 2008.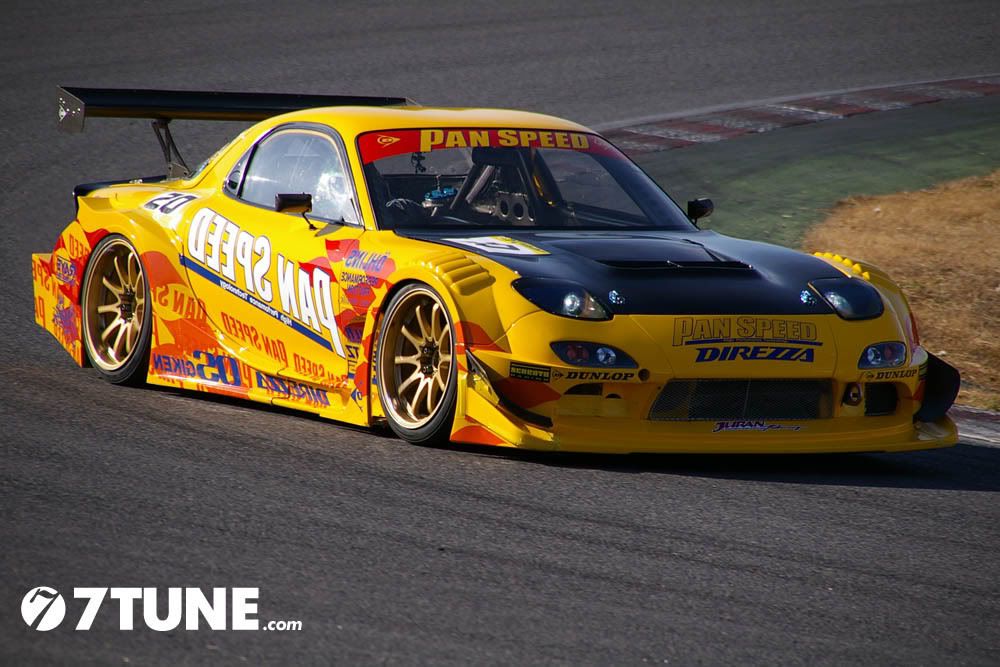 Panspeed FD3S 2008 Spec Sheet
Engine
Power: 490ps
Boost: 1.2 kg/cm2
Port: Standard Side Port
Plug: NGK 11
Fuel Pump: Bosch
Injector: 1000cc x4
Computer; MOTEC
Regulator: Sard
Turbine: HKS T04Z
Boost Controller: Blitz D-SBC
Wastegate: HKS GT2
AirCleaner: Original
Intercooler: Blitz V-Mount
Radiator: Original 3 turn Aluminium
Oil Cooler: Original Twin
Piping: in 70mm out 80mm
Exhaust Mainfold: Original 50mm
Front pipe Original 80mm
Drive Line
Transmision: Hewland 6 speed sequential - 188 mph top speed
Clutch: OS giken Clutch
Flywheel: OS giken flyweel
LSD: OS giken 2 way
Final: 4.1 final drive
Suspension
Damper: Ohlins PCV / Cusco Shock Spacer
Spring: S.W.I.F.T (front 16kg / rear 18kg)
Bush: Full Pillow Bushing
Arm: Original One Off Design
Footwork
Brake Rotor: PFC
Brake Pad: PFC
Brake Calliper: Brembo
Wheel: RAYS Volk Racing Wheel CE28 (10.5x18/11.0x18 ET+18) 30mm Spacer
Tyres: 265/35/18 Direzza 03G
Interior
Seat: Bride
Seat Belt: Sabelt Harness
Steering Wheel: Juran GT
Roll Cage: Original 13Pt
Meter: Motec M200? M2R?
Fuel cell: Original
Dash and Console: Original Dry Carbon
Exterior
Front Bumper: Pan Speed GT2004
Fender: Pan Speed GT2007 50mm increased!
Bonnet: Pan Speed GT2000
Side Step: Pan Speed GT2007
Door: Pan Speed Carbon
Rear Gate: Pan Speed Carbon
Rear Fender: Pan Speed Original Over Fender 50mm increased!
Wing: Pan Speed Original
Diffuser: Pan Speed Original
Lights: RE-Amemiya Sleek lights (modified) - Lexan
Mirror: Pan Speed.
Thanks 7tune.com